KnockoutTV to launch it's new KnockoutTV Show hosted by 3-time Boxing World Champion Tony "The Tiger" Lopez... stay tuned for more info... IF YOU HAVE PROBLEMS WATCHING A VIDEO, CLEAR YOUR BROWSER CACHE.... FOR BEST RESULTS VIEW WEBSITE ON GOOGLE CHROME...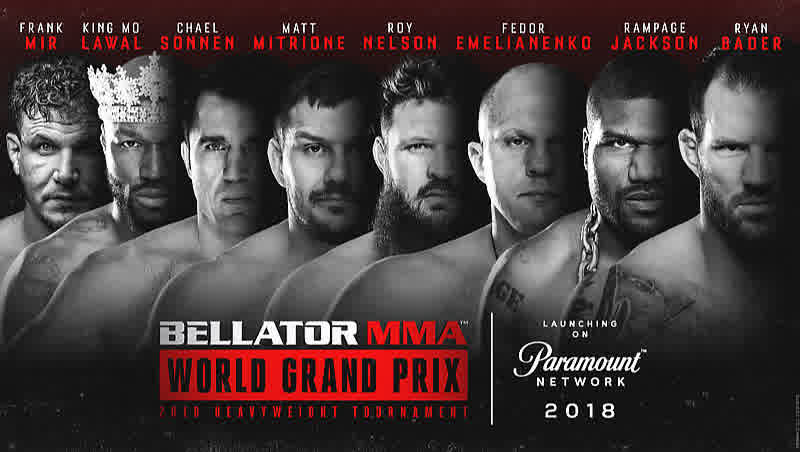 COPYRIGHT 2018 @ KnockoutTV.net ALL RIGHTS RESERVED
KnockoutTV.net KnockoutTV.us OfficialKnockoutTV.com OfficialKnockoutTV.net

Roy Nelson
Versus
Matt Mitrione
Matt Mitrione (13-5) defeated Roy Nelson (23-15) via majority decision (28-28, 29-28, 29-28)
Los Angeles Media
Workout Quotes & Photos
LOS ANGELES (Feb. 21, 2018) - Three-division world champion Mikey Garcia and IBF Junior Welterweight World Champion Sergey Lipinets participated in an open media workout in Los Angeles Tuesday as they prepare for their world title showdown Saturday, March 10 live on SHOWTIME from Freeman Coliseum in San Antonio and presented by Premier Boxing Champions.
MIKEY GARCIA "I'm excited to have another opportunity on March 10 to show my fans what I'm all about and what I can do in the ring. I'm preparing to win another world title and that's all that's on my mind right now.
SERGEY LIPINETS "This is going to be a great fight. We'll both be at 100 percent on fight night and ready to give our best. This won't be a one-sided fight. It's going to be two gladiators going at each other.
Photos from Esther Lin/

SHOWTIME


Unbeaten Cuban Contender Faces WBC Heavyweight Champion Deontay Wilder Live on SHOWTIME Saturday, March 3 from Barclays Center in Brooklyn & Presented by
Premier Boxing Champions
Luis Ortiz Training Camp Notes
MIAMI (February 20, 2018) - Unbeaten heavyweight contender Luis "The Real King Kong" Ortiz is finally nearing his first world title opportunity as he prepares to take on WBC Heavyweight World Champion Deontay "The Bronze Bomber" Wilder Saturday, March 3 live on SHOWTIME from Barclays Center, the home of BROOKLYN BOXING™.
The Premier Boxing Champions event will see undefeated former 154-pound champion Jermall Charlo take on Hugo Centeno, Jr. for the interim WBC middleweight title in the co-feature. The SHOWTIME CHAMPIONSHIP BOXING telecast begins at 9 p.m. ET/6 p.m. PT with top super middleweight contender Andre Dirrell battling hard-hitting Jose Uzcategui in a rematch for the IBF Interim 168-pound world title.
Tickets for the live event, which is promoted by DiBella Entertainment and TGB Promotions, start at $50 and are on sale now. To purchase tickets, visit Ticketmaster.com, BarclaysCenter.com, or call 800-745-3000. Tickets for the event can also be purchased at the American Express Box Office at Barclays Center.
On Deontay Wilder… "He's talking too much. He's going to have to back that up in the ring. He says he's going to kill 'King Kong.' He's going to knock me out. I want to watch him try. I'm not like those other guys he fought. I'm a real fighter. Tough and with a lot of experience. I've been fighting since I was 10 years old.
"He doesn't intimidate me. His trash talk makes me laugh. It's just a lot of noise. I'm hungry. I'm doing this for my family. He better take me seriously because he's going to find himself on the canvas before he knows it. I'm going to show the world who 'King Kong' is."
On his confrontation with Wilder after Ortiz's last fight… "Someone told me Wilder was in the crowd, I smiled. I was glad to see him. I knew what he wanted. "I'm not the kind that likes to trash talk, but I've had it with this guy. He talks too much. He has a big mouth. He has insulted me and has said too many dumb things. So when I saw him ringside I told him to get inside the ring and to tell the world once and for all that he was going to fight me. He says he wants to fight the top fighters. I'm a top fighter. Let's do it."
On testing positive for a banned substance during training for the first scheduled fight against Wilder… A lot of people that believe in me and know me well, know that I would not do anything that can jeopardize my future as a boxer. I have too much at stake: my family, my children and the possibility to provide for them.
"I had been taking that medicine for two years. It was my mistake not to disclose that prescription drug in the paperwork. I never thought a prescription was going to bring me so much trouble. I was taking this medicine to treat high blood pressure, but apparently it's also used to go to the bathroom a lot and mask other things. I drink two gallons of water per day. I go to the bathroom a lot already. I never put two and two together. I'm clean. The dose they found in my system was too low to mask anything at all. If I would have known this prescription drug was not allowed, I would have told my trainer and my doctor.