COPYRIGHT 2017 @ KnockoutTV.net ALL RIGHTS RESERVED
KnockoutTV.net KnockoutTV.us OfficialKnockoutTV.com OfficialKnockoutTV.net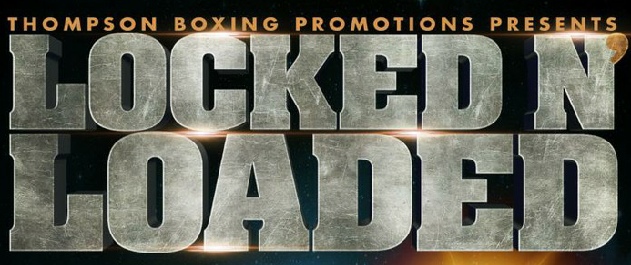 Taras Shelestyuk
,
remains unbeaten after
Saturday's KO win over
Jesus Alvarez Rodriguez
Ruben Villa
Successfully Defends Unbeaten Record on Saturday Night
ORANGE, Calif. (July 3, 2017) - In the "Locked n' Loaded" main event, welterweight Taras "Real Deal" Shelestyuk (16-0, 10 KOs) made quick work of Jesus Alvarez Rodriguez (15-3, 11 KOs) by knocking him out in the third round Saturday night from Omega Products International in Sacramento, Calif.
Shelestyuk, who is ranked No. 5 by the WBO, predicted a knockout win in his prefight interview with the Olympic bronze medalist (London 2012) saying he planned to be aggressive from the start.
"I didn't want this fight going the distance," said Shelestyuk, who attributes the aggressiveness to new trainer Joel Diaz. "Joel and I worked on increasing our punch output and it showed in this fight."
Shelestyuk, who is from the Ukraine but now makes his home in Los Angeles, rocked Rodriguez in the first round. He connected on a two-punch combination that sent the Mexican to the canvas. In the third round, Shelestyuk struck early and often, earning the knockout win at the 2:05 mark.
Top featherweight prospect Ruben Villa (7-0, 4 KOs) of Salinas, Calif. delivered a beating to overmatched veteran Jonathan Alcantara (7-16-2, 1 KO) of El Salvador. Villa, who swept all three scorecards (40-36), looked equally comfortable fighting on the outside or in the pocket. "I think this fight showed how versatile I am," Villa said. "I boxed him well and mixed it up inside without taking any hits. It was a solid performance." Villa, indeed, looked the part of an elite prospect. He was aggressive the entire fight, yet was extremely disciplined on the defensive end.
PHOTO CREDIT: CARLOS BAEZA / THOMPSON BOXING PROMOTIONS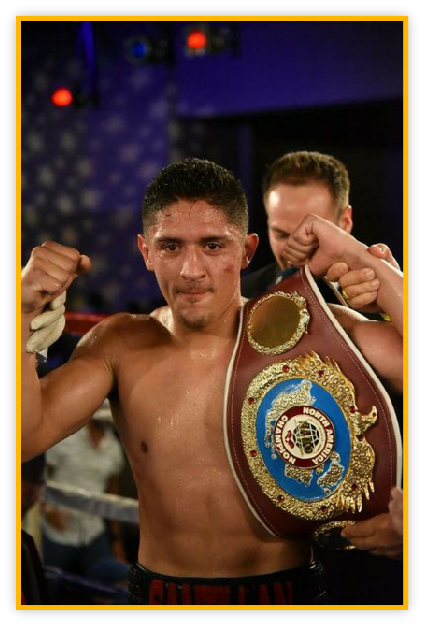 ORANGE, Calif. (July 7, 2017) - In what was billed as his toughest fight to date, Giovani "Gallo de Oro" Santillan (22-0, 12 KOs) stormed through "Hurricane" Sammy Valentin (12-1, 9 KOs) by second round knockout on Friday night from A La Carte Pavilion in Valentin's hometown city of Tampa, Fla.
Santillan, who came in unranked while Valentin sat at No. 9 by the WBO, captured the NABO Welterweight Championship with an emphatic performance that will elevate his stature in the highly competitive welterweight division.
"We came here to take Valentin's championship and we did just that," said Santillan, who lives in San Diego but conducts most of his sparring in boxing rich Los Angeles. "It's on to bigger fights now."
"Santillan looked impressive and he definitely shed the prospect tag," said Ken Thompson, president of Thompson Boxing Promotions.
PHOTO CREDIT: Damon Gonzalez LatinboxSports

Becomes New NABO Welterweight Champion with KO Win
"He didn't waste anytime in making a statement. He's about to enter his prime and we are thrilled with his progress."

Heavyweight LaRon Mitchell Retains Title with Stoppage Win on Friday Night
ORANGE, Calif. (Aug. 28, 2017) - Heavyweight champion LaRon Mitchell (16-0, 14 KOs) delivered yet another dominating performance on Friday night. The southpaw from San Francisco dropped challenger Michael Bissett (14-10, 8 KOs) four times in round two, making a statement early in the first title defense of his career.
Mitchell, who was defending his Jr. NABF title, knocked out the smaller Bissett in the third round (1:15) after a punishing combination sent the Florida resident to his knees.
"After the first round, I knew I'd be able to connect with something big," Mitchell said. "I walked him down and just focused on my punch placement and the power did the rest."
In the second championship fight of the night, featherweight Erick Ituarte (18-1-1, 2 KOs) successfully defended his Jr. NABF title by split decision over Alberto Torres (10-1-2, 4 KOs).
Ituarte controlled the fight with an aggressive jab and opportunistic body punching, while Torres was content to counter punch.
"Torres did a good job of covering up, but I know I hurt him a few times," Ituarte said. "I just tried to be first to the punch and not let him land anything strong."
Scores: 78-74, 78-74 (Ituarte) and Torres (77-75).

ORANGE, Calif. (Sept. 3, 2017) - In the biggest fight of his career, Danny Roman (23-2-1, 9 KOs) delivered a masterful performance by knocking out WBA champion Shun Kubo (12-1, 9 KOs) in the ninth round to become the newest world champion at 122-pounds.
Roman traveled to Kubo's home country of Japan to battle the newly minted Kubo. Roman, who lives and trains in Los Angeles, made good on his prefight promise to win by knockout.
"I said before the fight that I didn't intend for this to go to the judges," Roman said. "The plan was to knock him out and take the WBA title in dominating fashion."
Roman, indeed, dominated the fight from start to finish. He won every round on every scorecard with the exception of the first round on one score sheet. He battered Kubo on multiple occasions, dropping him in the seventh and eighth rounds before finishing him off in the ninth.
"Words can't describe what I'm feeling right now," Roman said after the fight. "It's a dream come true."
We're incredibly proud of Danny Roman," said Ken Thompson, president of Thompson Boxing Promotions. "In our eyes, Danny is the ultimate champion. He never backs down from a challenge and tonight he showed that he belongs among the best in the 122-pound division."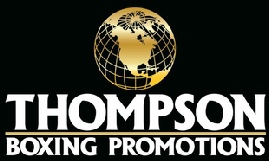 PHOTO CREDIT: JASON ROBLES
ORANGE, Calif. (Sept. 2, 2017) - World title challenger Danny Roman (22-2-1, 8 KOs) and WBA champion Shun Kubo (12-0, 9 KOs) each weighed in at 121.4 lbs. at Saturday's weigh in from Kyoto, Japan.
Kubo defends his 122-lb. title for the first time, and Roman finds himself in the first world championship fight of his career this Sunday, Sept. 3, from the Shimazu Arena in Kyoto.
The 12-round WBA world championship fight is promoted by Shinsei Boxing Gym, in association with Thompson Boxing Promotions.

KUBO

vs

ROMAN
FIGHTERS MAKE WEIGHT

PHOTO CREDIT: SUMIO YAMADA